The Kingdom of Spain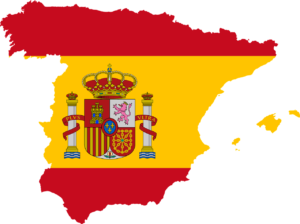 Capital City:
Madrid
Major Cities:
Barcelona
Valencia
Seville
Bilbao
Málaga
Language:
There are five languages:
Spanish (Castilian), Galician, Basque, Catalan and Occitan
Population:
46.75 million
Climate:
Spain has three main climates: Mediterranean, semi-arid and oceanic
Top Destinations:
If you want to experience the passion and dynamism of Flamenco, you're spoilt for choice. Madrid has some authentic and breath-taking performances.
If you're heading to Granada, you'll have to visit Alhambra. You'll stroll through tiled rooms with stunning carvings, past calming pools, fountains and under arches. Be sure to book early as you will only be allowed to enter at a specific time. You can also book tickets to see the Gardens and Generalife at night.
For those who want to explore the natural wonders of Spain, the GR92 in Costa Brava gives you 200 km to choose from. It's split into 20 different stages, some take a few hours, others a few days. This Mediterranean coastal walk will take you past historic villages and a variety of natural environments.
You may have heard of the Caminito del Rey in Malaga. Once notorious as one of the most dangerous trails in the world, and closed, this cliffside trek now comes equipped with solid paths, handrails and proper bridges. You might not get the same adrenalin rush, but it's still an epic walk!
Important Dates:
Holy (or Maundy) Thursday
Good Friday
Easter Monday
Corpus Christi
July 25: The Feast of Saint James
November 1: All Saints' Day
7 December: Spanish Constitution Day
Fact!
"Don Quixote", the first "modern" novel, written by Miguel de Cervantes in 1605 has been translated into more languages than any other book after the Bible.
The highest mountain is Mount Teide at 3718 meters. Situated in the Canary Islands, this active volcano is the reason the beaches of the island of Tenerife are made of black sand instead of white.
In Spain, the tooth fairy won't be picking up your baby teeth. That honour goes to a rodent – Ramonita Pérez.
Traditionally, Spaniards have two surnames. The first surname comes from your father, the second from your mother.
"Spain" comes from the word Ispania, meaning the land of rabbits.
Learn more about how my content and copywriting services can help your travel business.
Contact me for a free, no-obligation chat about my writing services.