Zambia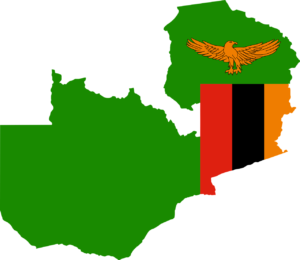 Capital City: Lusaka
Major Cities:
Kitwe
Ndola
Livingstone
Chipata
Languages:
English, Bemba, Kaonde, Lozi, Lunda, Luvale, Nyanja and Tonga
Population:
18.38 million
Climate:
Depending on altitude, Zambia has a tropical or sub-tropical climate
Important Dates:
January 1st  New Year
March 8th International Women's Day
March 12th Youth Day
April 10th Good Friday
April 12th Easter Sunday
April 13th Easter Monday
May 1st Labour Day
May 10th Mother's Day
May 25th Africa Freedom Day
June 21st Father's Day
July 5th Heroes' Day
July 7th Unity Day
August 3rd Farmers' Day
October 24th Independence Day
December 25th Christmas Day
Top Destinations:
Visit the largest waterfall in the world, Victoria Falls. Known in Lozi as Mosi-oa-Tunya, "The Smoke That Thunders", and in Toka Leya as Shungu Namutitima, "Boiling water". And it's no wonder. During the rainy season, water, over two kilometres wide, plunge over the edge into a gorge over one hundred meters below.
Named after the famous Victorian missionary explorer, Dr David Livingstone, Livingston is a fantastic place from which to base your Zambian adventure. Livingstone Town was established in 1905, and has many museums for you to delve into a fascinating past. Check out the Livingstone museum, Wayiwayi art studio museum and railway museum
Zambia is one of the best countries to take a safari in the whole of Africa. The South Luangwa National Park is a jewel in the Zambian crown in this respect. Often tailored to your needs, superb big-game safaris by 4WD.
You can spot lions, elephant, Cape buffalo, spotted hyenas, hippos, crocodiles, warthogs, herds of impala, greater kudu and eland.
South Luangwa is the only place on earth you can find Thornicroft's giraffe, Cookson's wildebeest and the Crawshay's zebra.
Fact!
Zambia was known as Northern Rhodesia until 1964 it became independent
You can find termite hills are the size of a house!
Victoria Falls is double the height of Niagara Falls
Zambia is landlocked, over 600 miles from the ocean
Learn more about how my content and copywriting services can help your travel business.
Contact me for a free, no-obligation chat about my writing services.