Republic of Yemen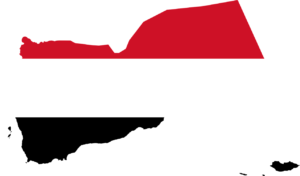 Capital City: Sanaa
Major Cities:
Al Hudaydah
Ta'izz
Aden
Ibb
Dhamar
Mukalla
Language: Arabic
Population: 29.83 million
Climate:
Yemen has a subtropical dry, hot desert climate
Important Dates:
22 March: Isra and Mi'raj
1 May: May Day
22 May: Unity Day
23 May: Eid al-Fitr begins
7 July: July 7th Anniversary
30 July: Eid al-Adha begins
20 August: Muharram
26 September: Revolution Day
14 October: Liberation Day
29 October: The Prophet's Birthday
30 November: Independence Day
Top Destinations:
Al-Saleh Mosque, Sanaa is the biggest and, some say, the most beautiful mosque in Yemen.  It's named after Yemeni President Ali Abdullah Saleh, who inaugurated the mosque in November 2008.
The Great Dam of Marib blocks the Wadi Adhanah in the Dhana valley in the Balaq Hills, in the Ma'rib Governorate in Yemen. The current dam was built in the 1980s, the ruins of the first Marib dam lie in ruins close by.
Also in Sanaa, there are several fascinating ancient tombs, dating back to Paleolithic times and could be as old as 40,000 years.
The Socotra Island was recognised as a UNESCO world natural heritage site in July 2008. The name comes from Sanskrit and means "the land of bliss." Here you'll find the iconic desert rose Bottle tree that grow only on this island.
Fact!
Yemen is It is the second-largest Arab sovereign state in the peninsula, at 527,970 square kilometres.
Yemen's territory includes more than 200 islands, and has a coastline of about 2,000 kilometres.
Yemen is the poorest nation in the middle east.
Although the country going through many challenges, it used to be known as Arabia Felix. And felix means "happy" in Latin.  The name was thanks to the fertile land that blessed Yemen.
Another iconic tree of Socotra island is the dracaena cinnabari, or dragon blood tree.
Learn more about how my content and copywriting services can help your travel business.
Contact me for a free, no-obligation chat about my writing services.