Iceland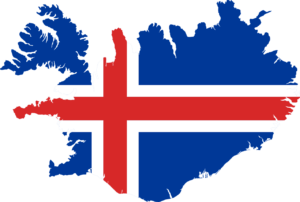 Capital City:
Reykjavik
Major Cities:
Kópavogur, Hafnarfjörður, Akureyri, Reykjanesbær
Language:
Icelandic
Population:
338,349 (2017)
Climate:
The climate is much milder than you would think, thanks to the gulf stream. This glorious little country enjoys mild winters- although temperatures can get as low as -30°C (-22°F). The summers can be a pleasant 20°C (77°F) However, the weather is fiercely changeable, so a mild, warm day can become a blustery, wet one within minutes!
Top Destinations:
Approximately 50 minutes from Reykjavik, this spectacular natural wonder shoots a jet of hot water into the air every 30 minutes!
This 300km route takes you to the three most popular Icelandic attractions. The Strokkur Geysir mentioned above is just one of them.
The second is the powerful and awe-inspiring Gullfoss Waterfall where water cascades 32 metres into the waiting plunge pool.
The third spell-binding attraction is the Þingvellir National Park. Once the seat of the Icelandic parliament. Incredibly, it's situated directly between the North American and Eurasian tectonic plates. If you walk here, you are walking between the continents, in the Mid-Atlantic Rift!
This fishing town and port boast a wealth of traditional Icelandic culture. Enjoy dancing, eating, visiting the botanic garden and wandering around the churches and museums as well as the country's largest library.
Important Dates:
1st January- New Year's Day
Maundy Thursday – The Thursday before Easter Sunday
25th April – First Day of Summer
Easter Sunday -changes annually. 21st April in 2019
1st May- Commerce Day
25th December- Christmas Day
Fact!
Iceland's nickname is the "land of fire and ice."
There are more than 125 volcanic mountains in Iceland, many of which are active!
Reykjavík is home to 60% of the population.
Get more information for your Icelandic adventure.
Learn more about how my content and copywriting services can help your travel business.
Contact me for a free, no-obligation chat about my writing services.