Lao People's Democratic Republic
Capital City: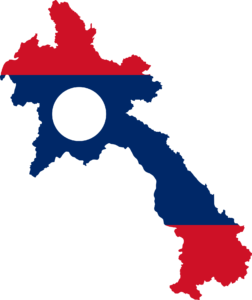 Vientiane
Major Cities:
Savannakhet, Pakxe, Luang Prabang, Vang Vieng, Thakhek, Muang Xai
Language:
Lao
Population:
7.17 million
Climate:
Tropical monsoon. Rainy seasons spans May to October. From November to February, you have the coolest weather, with March and April being the hottest months.
Top Destinations:
Laos is so far only on the more intrepid traveller's list. To be honest, those are the lucky ones who experience the beauty and charm of this lesser-known gem.
The capital, Vientiane, sits on the bank of the mighty Mekong river.  It's a former French trading post and much of the architecture will remind you of colonial Europe. But, Laos is Buddhist in the Theravada tradition. You can drink in the tranquil majesty of the exquisite Wat Si Saket with its golden spires and terraced roofs. Vientiane is worlds away from the noisy chaos of other Asian capitals, and you can find peace here along with good food and hospitality.
Luang Prabang is host to golden temples that sit alongside little cafes on winding roads. I have no idea why Laos coffee isn't world-famous, but I'd go there again just to sit in a peaceful café with this incredible brew.
Head out to the Kuang Si Waterfalls and revel in the silence, or bathe in the ultramarine pools and just feel amazing!
Neighbouring Thailand is famous for its beaches, but you can enjoy golden sands from the shades of a coconut tree just as easily in Laos. Huay Xai and the Si Phan Don Islands are a backpacker's heaven. Away from mainstream tourists, you can enjoy the peace and serenity lost to other similar destinations. You can cruise down the Mekong, laze on the beaches, or head to the Islands of Don Det or Don Khon if you want something geared a little more towards tourists.
Important Dates:
14th April: Laos New Year
5th June: Boun Khao Phansa (known as the Buddhist Lent)
20th July: Lao Women's Union Day
1st October: Boun Ok Phansa (Buddhist Lent finishes)
3rd October: Boat Racing Festival
31st October: That Luang Festival (That Luang is an important Theravada Buddhist monument)
2nd Dec: National Day
Fact!
The Laos coffee I rave about so much is one of their biggest exports (sadly not to the United Kingdom as yet) is served with condensed milk.
Laotians eat lots of sticky rice. This glutenous staple is served in one delicious ball and you simply pull it apart with your fingers. It's absolutely fantastic! Just ask for (ahem) kao niaw.
If you like mystery, you need to visit the Xiangkhouang Plateau. This plateau is strewn with hundreds of "jars" dated to the Iron Age. No-ones know who, what, or why. Maybe you could find out!
Learn more about how my content and copywriting services can help your travel business.
Contact me for a free, no-obligation chat about my writing services.